[vc_row][vc_column][vc_column_text]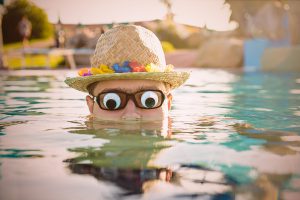 Sixty-seven percent of consumers consider clear, detailed images more important than the product information or customer ratings. If image is so critical in viewing online content, then what does your LinkedIn photo convey about you?
One of the first things someone sees on your LinkedIn profile is your picture. It's natural to want to put a face to a name. So, you definitely want that first impression to not only make an impact, but also leave the right impression. Some of the most memorable profile photos on LinkedIn are not exactly the best. Don't let your photo wipe out your accomplishments! Here are 3 easy tips to help you get noticed the right way.
1) Create Authentic Content
LinkedIn is one of the best platforms to advertise your professional brand. Your image should feature you – only you. Don't distract your audience with family, pets, friends, or extraneous props. This is not Facebook or Instagram, so avoid using photos taken at events or on vacation. Your profile photo should be a professional headshot taken from about your shoulders up with you in the center of the frame. Sit or stand upright with good posture, look at the camera, smile, and try to remain natural.
Your goal should be to present yourself the way you would want your clients or future boss to see you. Start by dressing as if you were going to work, an interview, or to visit a client. Your clothing will aid in portraying the true you so try not to over or underdress by straying too far from your typical professional wardrobe. You should dress with slightly understated colors like shades of blue or grey to highlight your face. Avoid patterns and bright colors like shades red or yellow that can be overwhelming. Solids will keep it clean and simple.
2) Enhance Your Shooting
Creating a professional headshot is not hard to do. You don't have to use a professional photographer to take a good photo. You can do it yourself or solicit the help from a friend but be sure to use a quality devise. An older model phone is not going to give you the crisp quality you desire.
Choose the right quality background. It doesn't need to be a white wall, but it shouldn't be distracting. Keep it simple. Grays, faded blues, or even a garden create good back drops. Avoid using reflective, busy, or bright backgrounds in order to keep the focus on your face.
Wherever you take your photo, be sure to consider your lighting. Too much light on your face creates a distracting shine and you don't want to be squinting in the midday sun. However, you also want the image to be clear and bright, so don't stand in shadows. Natural light without substantial shadow is the best. Stay away from fluorescent lighting as it can wash you out. Take a few test shots to see if you're happy with your lighting. You may need to adjust the time of day or location if your image comes out over or underexposed.
3) Stay Up to Date
Use a recent photo, so you don't have an awkward encounter when someone finds out the photo in your profile looks nothing like you. Nothing shouts false advertising and makes you appear deceptive to your audience more than an outdated photo that doesn't represent the true you. Now that more and more meetings are being done virtually with video calls like Zoom, it's easy to have such an encounter if your profile photo is out of date. If you recently grew a beard or changed your hair color, it's time to update your picture. It's not a bad idea to periodically update your photo to avoid any awkward situations and to remain current.
Since 50% of the human brain is devoted to visual processing, a great professional photo is one of the easiest ways to convey your professional brand. Your profile photo on LinkedIn should be different from your other social media accounts because it reinforces your professional image. It could make the difference in you landing a new client or getting a key interview. Be sure to have a recent, quality image that expresses who you are. Let your experience do the talking and your photo bolster your professional brand![/vc_column_text][/vc_column][/vc_row]